About Us
Supporting the Eighty Four Community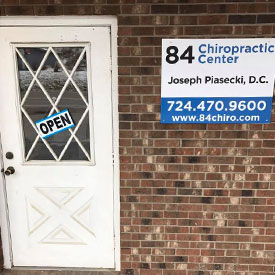 Dr. Joseph Piasecki, or Dr. Joe, graduated from Logan College of Chiropractic near St. Louis, Missouri in April 2005. He began working as an associate, then opened his first practice location — ProCare Chiropractic Center in Bethel Park. Originally from Cokeburg, he wanted to create a chiropractic care center for natural health near his hometown and founded 84 Chiropractic Center in 2017.
Dr. Joe and his family love being a part of our community. You might see him coaching youth sports teams or bringing his children to school. He enjoys helping the people he knew growing up and welcomes the chance to get to know you and your family!
Achieving Your Particular Health Goals
At 84 Chiropractic Center, we see people from all walks of life with different goals in seeking our care. As a chiropractor, Dr. Joe is trained in treating the spine as well as the other joints of the body, including shoulders, knees, elbows, wrists and ankles and has taken continuing education on these subjects to continue providing top-notch health care.
No matter what outcome you might desire,
we would love the opportunity to help you get there.
Contact us today to discuss what we can do for you! Convenient Saturday appointments are available.
---
About 84 Chiropractic Center | (724) 470-9600